"THE WEEKLY WRAP" with Diane W. Collins

Will We Shutdown the US Federal Government?

Friday, April 8, 2011, 5:04 pm, Central
Archive: Publications, Weekly Wrap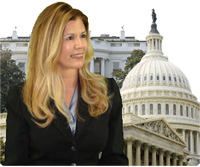 The Weekly Wrap
"America, Are We Moving Toward a Totalitarian State?
Welcome to the Weekly Wrap. I'm Diane Collins.
The potential shutdown of the United States federal government is the focus on Capital Hill. We're talking about the FY 2011 Budget, of course, which Democrats failed to pass during the 111th Congress under Speaker Pelosi's leadership. It was political. They didn't want to face "big spending" questions during the November 2010 elections; and they couldn't get it done during the lame duck. So, as we have said Republicans are stuck cleaning up the mess.
Currently, we have a stalemate. Early in the day Senate Majority Leader, Harry Reid (D-NV) blocked HR 1255, The Government Shutdown Prevention Act of 2011 and S.768, To Provide for the Continued Operation of the Government in a Fiscally Responsible Manner from coming to the Senate floor. HR 1255 would have enacted "by provision" HR 1 if the Senate did not act by April 6th. HR 1 cut $61B from FY 2011 and funded the federal government through September 30th. Sen. Rand Paul is the sponsor of S.768, however, the text of the bill has not been reported by the Government Printing Office at this time. So, I can't explain why Sen. Reid denied S.768 the opportunity of coming to the Senate floor, other than it was a Republican bill. Another short term resolution HR 1363, Department of Defense and Further Additional Continuing Appropriations Act, 2011 was passed by the House on Thursday in anticipation of averting a shutdown. HR 1363 would fund the federal government for one week; the Pentagon through September 30th ensuring our military is paid on time; and cut 12B from FY 2011. It also included a policy rider on defunding Planned Parenthood.
Sen. Reid and the Left are making "policy issues" their battle cry and continue to attack the Tea Party coalition in an attempt to separate Speaker Boehner from his base. The loudest outcry from the Left has centered around policy riders in Republican legislation to fund the government. Policy riders have included defunding Planned Parenthood; restricting the EPA with regard to large industrial facilities, the definition of green house gases and their regulation; and defunding Obama care. At this point, policy riders seem to have been resolved with the exception of defunding Planned Parenthood. (Please see our earlier article of the day with regard to Sen. Reid's position on the issue.) Speaker Boehner said as much earlier this afternoon.
In my opinion, the real hang up in the negotiations is not policy issues. Policy issues are a way of motivating the public and at times they're bargaining chips for politicians. It's about the money. Further, it's about where the cuts are made. Reportedly, the Left was willing to increase the cuts to $38B but those cuts were to mandatory spending (Defense) not discretionary spending... smoke and mirrors. This was rejected. Sen. Reid stated they had agreement on the number but not on the policy issues. Speaker Boehner said there was no deal until all aspects of the funding proposal were agreed upon. In other words, it's not done, until it's done. Sen. Reid tried to make the issue Planned Parenthood. It blew things up.
Now, it looks like we may have a short-term CR by midnight. Possibly, HR 1363, which has been posted for the required seventy-two hours; passed the House yesterday; cuts 12B from FY 2011; funds the Pentagon through September 30th making sure our military is paid on time; and keeps the federal government open for one more week. So, we can continue on to fight another day. Or, maybe not.
I'll continue to update this article adding video as the night goes on. Order in... perhaps Chinese.
UPDATE: 8:51 pm, Eastern - Sen. Kay Bailey Hutchison introduces S.724, a bill that ensures one thing... if a federal government shutdown occurs, our military will be paid on time with full pay. 7:51 pm. Central. Sen. Hutchison stated her bill is the same one first introduced on March 31st in the House by Rep. Louie Gohmert (R-TX), Ensuring Pay for Our Military Act, and gives him credit.
UPDATE: 9:23 pm, Eastern - No deal yet. Sen. Reid to speak at 10 pm, Eastern.
UPDATE: Deal reached. Shutdown of federal government avoided. Short-term CR (bridge) until Thursday, cuts $2B from FY 2011. There are questions as to whether or not it includes abortion restrictions on District of Columbia. Reid introduced the bridge CR as "HR 1363 as amended by Reid/McConnell." Long term CR cuts $40B, has no riders, however the "deal" requires Sen. Reid to allow an up or down vote on defunding of Obamacare and Planned Parenthood. House to reconvene and take up short term CR tonight. Senate adjourns after passing short term CR avoiding shutdown. House has short debate (posturing) recorded vote taken. House passes short term CR, HR 1363 as amended by Senate.
We'll follow up on both CRs as posted in the Congressional Record and as the GPO pubishes the legislation.
Contact: Representatives, Contact: Senators