Campaign 2012
2012 PRESIDENTIAL DEBATES
October 3, 2012
Diane W. Collins
dcollins@marketingweb.com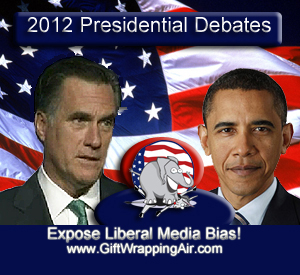 Presidential Debates 2012
Monday, October 22nd the third and final debate of the 2012 Presidential Campaign will take place in Boca Raton, FL, 9-10:30 pm ET. The debate will be moderated by Bob Schieffer,Host, Face-the-Nation, CBS and center on foreign policy. Full coverage continues to be provided by ABC, CBS, NBC, FOX and cable stations Fox News and MSNBC. Join us here or on facebook at GiftWrappingAir and expose any liberal media bias you believe is taking place. Be a citizen journalist. Demand TRUTH.
Tuesday, October 16th marked the second round in the 2012 Presidential debates. The topics included "Foreign & Domestic Policy," and the debate was in a town meeting format. Questions have arisen regarding how moderator, Candy Crowley, CNN Chief Political Correspondent directed the debate, interrupting Gov. Romney and interjecting herself as a "fact check" on the Benghazi attack... later, stating she had not been correct. Crowley's role per the agreement by both candidates was to facilitate not to reframe, redirect or even ask questions of the candidates themselves and certainly not to act as a real time fact checker. Coverage ran from, 9-10:30 pm ET
The 2012 Presidential Debates began Wednesday, October 3rd at 9:00 pm, ET. Full coverage continues to be provided by ABC, CBS, NBC, FOX and cable stations Fox News and MSNBC. The first debate focused on "Domestic Policy," as moderated by Jim Lehrer of News Hour PBS. Round #1 has been judged a strong win for Romney and has clearly changed the direction of the election. We need to stay vigilant on social media to ensure we expose any liberal media bias during the debates. We want our GiftWrappingAir facebook community to watch as many stations "after-debate commentary" simultaneously, as possible... and to report.



Expose the liberal media. Make it a fair fight!
During the debates, GiftWrappingAir will open a thread on our FACEBOOK PAGE to enable our community to comment as they watch the debate. You will be encouraged to report on anything you see that you consider unfair bias, false statements, or audience "plants." In addition, we have completed a "debates" section right here on our website where we will allow our GiftWrappingAir facebook community also to comment openly... just in case our facebook page "goes down" during the debate. The link was posted last night and again this morning on facebook and twitter. We encourage Conservatives to join the conversation as we stay vigilant!  
ROUND #1 ROMNEY!

ROUND #2 DRAW

ROMNEY CLIMBS IN POLLS!

ROUND #3 "FOWL"

CANDY CROWLEY - CNN "injects herself in the debate." Controversy continues over her role as moderator.
FULL DEBATE SCHEDULE
2012 Presidential Debates: ALL moderated by the "mainstream" liberal media.
OCTOBER 3RD- "Domestic Policy," moderator, Jim Lehrer of News Hour PBS, 9-10:30 pm ET
OCTOBER 16TH - "Foreign & Domestic Policy," town meeting format, moderator, Candy Crowley, CNN Chief Political Correspondent, 9-10:30 pm ET
OCTOBER 22ND- "Foreign Policy," moderator, Bob Schieffer,Host, Face-the-Nation, CBS, 9-10:30 pm ET
(The Vice Presidential Debate between Paul Ryan and Joe Biden will be on OCTOBER 11TH - "Foreign & Domestic Policy," moderator Martha Raddatz, ABC News.)