Rep. Michele Bachmann (R-MN) Announces Her Candidacy for President of the United States
June 27, 2011
Diane W. Collins
dcollins@marketingweb.com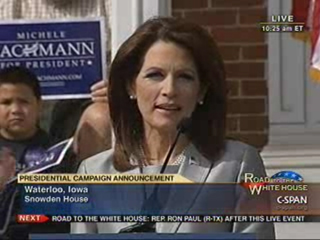 Rep. Michelle Bachmann (R-MN)
Announces Candidacy for President
Today, Michele Bachmann announced her candidacy for President of the United States during a campaign rally in her hometown of Waterloo, Iowa.
Although Rep. Bachmann (R-MN) has suffered the ridicule of Liberal media types you'd be hard pressed to notice. Smiling, gracious, well-spoken... all words that apply to the person many are finally discovering. The unflappable, Michele Bachmann. She has a presence that has grown out of experience and faith. As a child, Michele attended elementary school in Iowa were she was born. It made a mark on the Congresswoman. She stated it was in Iowa where her values of family, country and faith were established.
Ms. Bachmann went on to mention as a young person she had been a Democrat and supported Jimmy Carter in his run for the presidency. Perhaps she like so many young people today was captured by the unbridled idealism of youth that seems to draw the trusting to the unrealistic Progressive views of government and economics. But, as she watched the effect the Carter administration's policies had on the US economy Rep. Bachmann stated her views began to change. Not unlike President Ronald Reagan and even Texas Governor Rick Perry, Michele Bachmann's position clarified. She became a Republican.
Since that time, Ms. Bachmann has come to be an incredibly accomplished individual. Her web site, www.michelebachman.com tells her story well. "She is the first Republican woman to be elected to the US House of Representatives from the state of Minnesota..." In the House "Michele sits on the Financial Services Committee (FSC) and the Permanent Select Committee on Intelligence..." "Prior to serving in the U.S. Congress, Michele was elected to the Minnesota State Senate in 2000 where she championed the Taxpayers Bill of Rights.... Before that, she spent five years as a federal tax litigation attorney working on hundreds of civil and criminal cases..." She is the mother of five and a foster mother to twenty-three. Her desire to see quality education for children led her to start a charter school for at-risk kids in Minnesota. (This, in addition to her state legislative efforts.) And, she has a successful marriage to Dr. Marcus Bachmann, president of Bachmann & Associates. He has been a clinical therapist in the Twin Cities for more than twenty years.
But, beyond all of this what has won me over is how Michele Bachmann treats people. I had the chance to watch her after the rally greet those who attended ... the numerous campaign placards she signed, the hands she shook, the hugs. But, when I saw Michele bend down time and again so she could greet America's next generation, the children... personally, attentively, on their level... it was then I saw a humble power, a reflection of something Greater.

Contact: Representatives, Contact: Senators