Tax Deal? President Obama Talks Compromise...
December 6, 2010
by Diane W. Collins
dcollins@marketingweb.com
After an unsuccessful attempt on Saturday in the Senate by the Left to limit the Bush Tax cut extensions and extend a one year, "unpaid for" unemployment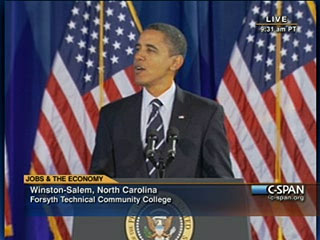 President Obama
"We've got to find consensus here."
benefits package, Democrats were forced back to the negotiating table. Over the weekend some progress appears to have been made with an anticipated announcement from President Obama today.
While in Winston-Salem, N. Carolina at Forsyth Technical Community College, President Obama addressed jobs and the economy. First comments were on "political chatter" regarding 2012 elections. The President stated he wanted "to concentrate on getting the country out of recession" claiming his policies had created 1M private sector jobs in 2010; that the auto industry has made healthy gains. Obama went on to say the economy was seeing progress... admits jobs report shows it's not happening fast enough. Feels he needs to accelerate job creation and prevent the tax crisis on January 1st. "We've got to find consensus here." The President stated his desire to keep in place tax cuts for workers and small businesses, "...even if it's not 100% of what I want, or what the Republicans want." Also calls for extension of unemployment benefits as the "right thing" and "smart thing."
Obama said we need serious decisions about economy in long run. Over the next ten - twenty years... where are the new jobs? What will it take to keep the American dream alive for our children and grand children. Moves to discussion of bio-tech field, clean energy, technology, exports. Concerning policies and budget recommendations? His vision: to recognize changes in the economy. Goes on to talk about economy being global and the need to compete globally. (The idea that America needs to be more than a "service economy," that we need to actually "make things" is not a new concept. It's common sense.)
Obama moves on to push for education, student loans and pell grants. (This is most likely a political call for including the extension of his education "stimulus" within some tax deal with Republicans.) President says he's fighting for investment in innovation, education and infra-structure. Comments on broadband extension to more families may be in reference to "net-neutrality" issues currently under consideration.
Obama scolds "those who work in Washington" telling them to take their focus off the 2012 elections. (Most likely reference to Mitch McConnell's remarks.) No apparent announcement on tax compromise... just more posturing. Only mention of a tax deal was he believed we need to prevent the tax crisis on January 1st. "We've got to find consensus here." Really? You don't say.
Contact: Representatives, Contact: Senators