Campaign 2010:
Historic GOP Wins in House, Strong Gains in Senate & State Governors Races!
Published November 3, 2010
by Diane W. Collins
dcollins@marketingweb.com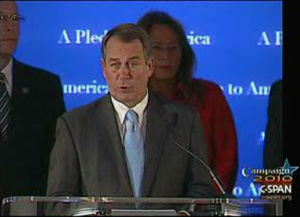 John Boehner, (R-OH)
112th Presumptive Speaker of the House
112th Congress
Nancy Pelosi is fired! John Boehner expected to become Speaker of the House. According to Real Clear Politics, GOP currently +61 seats in the House making the count Republicans 240, Democrats 183.
Harry Reid, (D) Senate Majority Leader held on to his seat in Nevada against Tea Party Express (R) candidate Sharron Angle. Reid will maintain his position as Senate Majority Leader, however, the landscape has changed. Currently, Republicans have added +6 Senate seats making the count Democrats 51*, Republicans 46 with Colorado, and Washington too close to call. In Alaska, it appears Murkowski (R), the "Write-In" vote has taken the election from Tea Party Express (R) Joe Miller. "Write-in" holds 41% of the vote with 99% counted. Now, the battle over the "intent."
State governors races also showed strong Republican gains currently at +7 with Republicans at 27, Democrats at 15. A number of races are still being counted. The Republican gains will be extremely significant in the redistricting process that follows a census year. The geography Democrats will face in the 2012 election will have been redrawn. It is a new day... more
Now, on to governing. The wonderful, ubiquitous Tea Party has shown itself to reflect the majority of the nation as "center-right." The Tea Party Express saw far-right candidate losses in Delaware, Connecticut, and Nevada Senate races but victories in Florida and Kentucky. A more conciliatory attitude from both GOP establishment and the Tea Party Express faction of the national Tea Party is expected to help solidify the peoples' voice.
We covered the election all night. For moment-by-moment remarks catch us on Twitter.