Health Care
Health Care Reform: Pelosi Style... The Dirty Thirty-one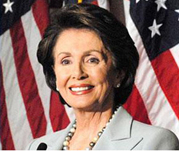 The Dirty Thirty-one? These congressmen are those described by Dick Morris as the most vulnerable to Nancy Pelosi's strong arm tactics. They voted for the original House Health Care Reform bill that was modified on Christmas Eve in the Senate. It is the Senate version Pelosi is asking these congressmen to pass so the Democrats can move to reconciliation in the Senate. It is anticipated that the reconciliation process will revise the bill more to the radical left.
Pelosi Strategy? Pass the Senate Health Care Bill. Reason? The bill will be changed more to their liking through reconciliation in the Senate. Sacrifice? Pelosi Pitch One: No sacrifice. You'll be able to go back to your constituents with the "accomplishment" of having passed health care reform. Pelosi Pitch Two: (When they don't buy the first) Your political career. You voted for the original House Health Care Bill. The Republican's will crucify you in the local elections anyway... So, do the "right thing." Then there's the political horse trading. Who knows what anyone is getting in coveted ambassadorships or appointments to government positions. 3/7/10: ALERT The WSJ Report on Fox News this weekend identified an even more sinister outcome. If Pelosi gets the votes in the House but reconciliation fails in the Senate the President could sign the original Senate bill (passed on Christmas Eve) into law. The whole thing could be a sham just to get healthcare through the House. This, as noted by the WSJ could be a "double jeopardy" play.
We need to stop Pelosi from getting the votes. There's still a chance. The "Dirty Thirty-one" aren't necessarily buying Pelosi's strategy. Many like their jobs and think they might have a chance at keeping them. They don't like the idea of being the sacrificial lamb. So, our job is to let the "Dirty Thirty-one" know they have no chance at re-election IF they pass the current health care reform bill. Tell them it is time to start over and reform health care in an open, positive, bipartisan way that prevents a government take over of our health care system.
Make sure these guys know they don't have a chance at re-election IF they pass the Health Care Reform Bill.
TO CALL: Go to Dick Morris's list for representatives' phone numbers (both local and in Washington, DC.)
TO EMAIL: The most powerful email to a congressman is one from a constituent in his own district. Check to see if your representative is on the list. Contact all your friends and send them the link to this page so they can weigh-in too. Then email your representative and tell them to vote "NO!" on this Health Care Reform Bill and start over. You can contact your representative via email. It's easy. Just have your zipcode + four digit extention ready to go! (If you need suggestions on what to write, here's my letter. (PDF) Feel free to copy it.)
ARIZONA:

Mitchell, Harry E., Arizona, 5th

Giffords, Gabrielle, Arizona, 8th

Kirkpatrick, Ann, Arizona, 1st

CALIFORNIA:

McNerney, Jerry, California, 11th

COLORADO:

Salazar, John T., Colorado, 3rd

CONNECTICUT:

Himes, Jim, Connecticut, 4th

FLORIDA:

Grayson, Alan, Florida, 8th

ILLINOIS:

Foster, Bill, Illinois, 14th

INDIANA:

Hill, Baron, Indiana, 9th

MICHIGAN:

Schauer, Mark, Michigan, 7th

Peters, Gary, Michigan, 9th

NEVADA:

Titus, Dina, Nevada, 3rd

NEW HAMPSHIRE:

Shea-Porter, Carol, New Hampshire, 1st

NEW YORK:

Bishop, Timothy, New York, 1st

Hall, John J., New York, 19th

Owens, Bill, New York, 23rd

Arcuri, Michael A., New York, 24th

Maffei, Daniel B., New York, 25th

NORTH DAKOTA:

Pomeroy, Earl, North Dakota, At-Large

OHIO:

Driehaus, Steve, Ohio, 1st

Kilroy, Mary Jo, Ohio, 15th

Space, Zachary T., Ohio, 18th

PENNSYLVANIA:

Dahlkemper, Kathy, Pennsylvania, 3rd

Murphy, Patrick J., Pennsylvania, 8th

Carney, Christopher P., Pennsylvania, 10th

Kanjorski, Paul E., Pennsylvania, 11th

SOUTH CAROLINA:

Spratt, John, South Carolina, 5th

VIRGINIA:

Perriello, Tom, Virginia, 5th

WEST VIRGINIA:

Mollohan, Alan B., West Virginia, 1st

Rahall, Nick, West Virginia, 3rd

WISCONSIN:

Kagen, Steve, Wisconsin, 8th
Further reading:
We recommend this site. Join and get the newsletter. Buy his books. Give if you can to support media campaigns.